Welcome to Lake States' On-Line Photo Archive. Here you will find over 85,000 images searchable by keyword. Most of the collections are subdivided by railroads and/or subject matter. Our goal is to make these collections available to researchers for the benefit of documenting and sharing railroad history. Prints or downloads may be purchased for private personal use only. Scans for publication use are sold separately by special order (see below). All proceeds go directly to supporting LSRHA's archives. We certainly hope you will find our On-Line Archive of great value and thank you for your support of LSRHA.
PLEASE NOTE: Our web host's printing service forces a crop to full bleed of the paper size you select when ordering prints. Image formats with a wide aspect ratio (e.g. 116, postcard) will require cropping off the ends of the image. Unfortunately we cannot change this but suggest as an option to order a larger 8×12 print to minimize the crop or order a smaller 4×8 print and crop out the top and/or bottom (which often is a benign sky or foreground). When placing your order, you can select the area to print (see below) by moving the Printing Area Mask. Also, the printing service is not able to print metadata on the photographic prints. We strongly recommend that if you wish to retain this information, you copy it yourself when you receive your order. The same is true for digital downloads. A monogram will be located in the lower right-hand corner of all prints and downloads. Lastly, our Use Policy outlined below supersedes in entirety the Personal Photo License language on the host's site.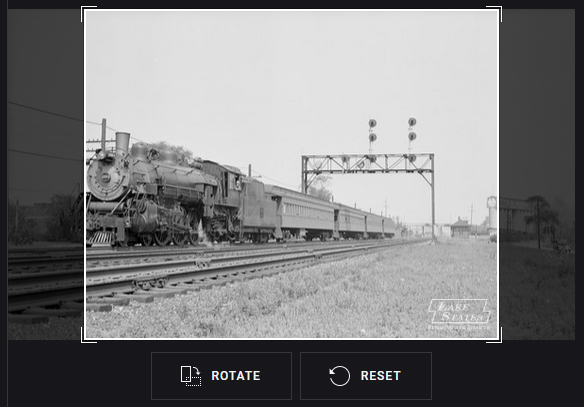 ABOUT OUR METADATA
Each photo scan has a filename that contains specific information regarding that image. We also embed many photos with additional keywords identifying objects seen in the photos.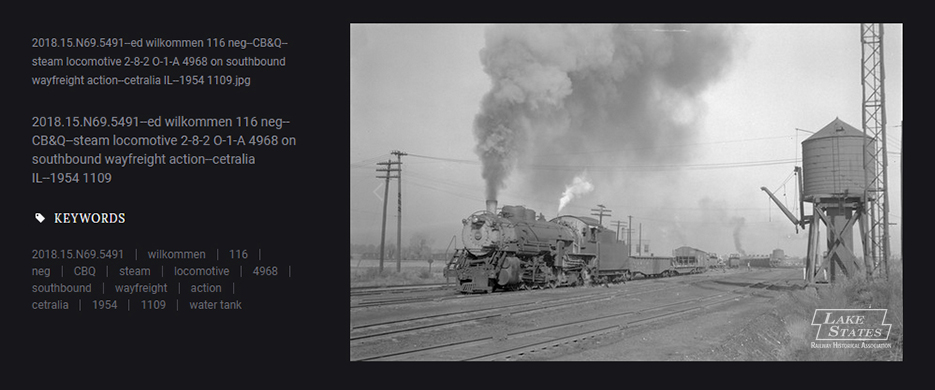 An example of the filename "2009.026.01.13142–ritzman 5×7 neg [Casey Jones]–C&NW–steam 4-8-4 H-1 3008 on freight train action–DeKalb IL–1942 0102" and how to interpret its metadata:

SEARCHING BY KEYWORD
Metadata keyword searches may be done within individual collections or globally across the entire site. This is controlled by the page from which you conduct the search. The search bar is located at the upper righthand corner of the page. Examples:
To search globally across all collections, perform the search from the main archive page
To search only within a specific collection, start at that collection's home page
To search only within a gallery, start at that gallery.
See individual collection descriptions for details on the scope of metadata for the individual collections. Examples of keywords would be railroad initials (e.g. C&NW, CMStP&P) or subject matter (e.g. depot, roundhouse, coal chute, water tank, wigwag, signal, boxcar, steam, action, passenger). For an index of keywords used, click here. Searches may even be made for specific dates (years), locations (city or state), and film formats–any word that is contained in the image filename. Metadata keyword searches can be refined by adding more than one keyword. For example, to search for every water tank on the C&NW in Wisconsin, you would enter "C&NW water tank WI" in the search bar.
USE POLICY (updated 1/1/23)
LSRHA makes these images available to LSRHA members and the public with the understanding that they are solely for personal private research purposes. Use in print publications, film, any internet websites or blogs, or video requires prior written permission. LSRHA makes no warranty of Copyright ownership. Determination of copyright is the responsibility of the user. Any other copying, selling, sharing, displaying, public exhibition, or any distribution via email, uploading to internet sites, or social media is prohibited. We do encourage sharing links to our Photo Archive and its individual images.
DUPLICATION FEES FOR PERSONAL PRIVATE USE
Prints ordered on-line:
4×8: $9.25
5×7: $8.75
8×10: $10.00
8×12: $11.50
8.5 x 11: $12.00
Downloads ordered on-line:
1 Mpix: $6.00
4 Mpix: $10.00
INSTRUCTIONS FOR USE IN PUBLICATIONS (updated 1/1/23)
Scans for use in publications must be purchased by the publisher. Use Permission Form (download HERE) to order scans. Files will be sent via email or dropbox link. Files are JPEG format, 3600 pixels wide or tall, saved at highest quality setting, and will be free of any watermark or logo monogram. If a TIFF file format is preferred over JPEG, there is an additional $15 surcharge per image (in addition to download and publication fees). Files must NOT be used for ANY purpose other than the original one-time print publication by original requestor. Please see the Permission Form for full use and citation requirements.
PRE-PRESS DIGITAL INFORMATION FOR PUBLISHERS
Most all of our negatives and 120-format color transparencies are scanned at 2400 dpi, and saved as uncompressed 16-bit TIFF files. 35mm color slides are scanned at 4000 dpi yielding an image about 5200 pixels wide. Adjustment of levels (95% maximum, 4% minimum black, midtones as needed) is done in Photoshop. For color (RGB) images, those that have moderate to severe color shift are adjusted, however, color will not be perfect. It is understood that color and levels may need to be adjusted by third-party for publication. Scratches, dust specks, and blemishes on images have been manually removed as time allows. Ektachrome and other single-emulsion color 35mm slides have digital ICE applied at time of scanning to help remove dust and scratches.
SCAN COST FOR ALL PUBLICATIONS (updated 1/1/23)
JPEG scans are $10 each. TIFF scans are $25 each. There is a 20% discount on orders of more than 20 images for a single project. Discount is applied on a per-order basis. Use Permission Form to place order.
PRINT PUBLICATION FEES (One-Time Use Only, in addition to Scan Cost)
Film and Video: $200 for first image, $50 per image after
Print (books and magazines, circulation <2500): $10 per image
Print (books and magazines, circulation >2500): $25 per image
Print (brochures, pamphlets): $15 per image
Non-Profit Print (501(c)(3), by organization representative only): no charge
Advertising (any media): $50 per image
Payment must be received before permission is granted
Large quantity discounts available, please inquire.
DIGITAL PUBLICATION FEES (One-Time Use Only, in addition to Scan Cost)
Social Media use NOT ALLOWED
Website or other static page for historical or illustrative purpose: $10 per image (no charge for 501(c)(3))
Promotional use for revenue generating purpose: $25 per image (all users)
Use in a logo or graphic: $100 (all users, LSRHA logo/text embedding waived)
Payment must be received before permission is granted
Large quantity discounts available, please inquire.
See our Permission Form for full details on publication use policies and requirements.
revised 1/1/23